Roller skating has enjoyed an enormous surge in popularity since the world came to a complete standstill at the height of the pandemic. People, looking for a way to stay fit and reconnect with others, began dusting off their roller skates and congregating outside to enjoy music on wheels.
New York City based creative community Soul in the Horn (SITH) decided to roll in on the fun with their new open-air DJ series, Soul on Skates.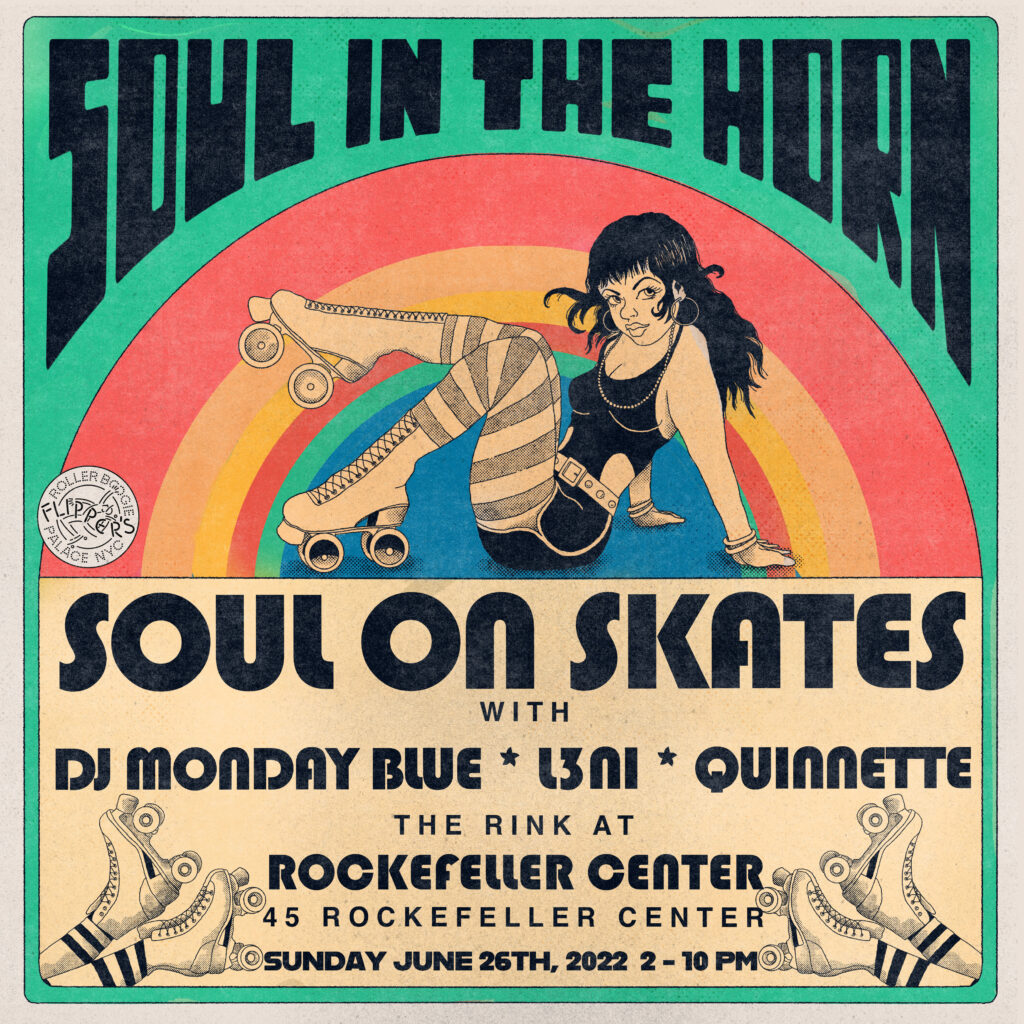 Soul on Skates began April 17, 2022 on a beautiful Easter Sunday at Rockefeller Center in Midtown Manhattan with DProsper, Natasha Diggs and L3ni Love.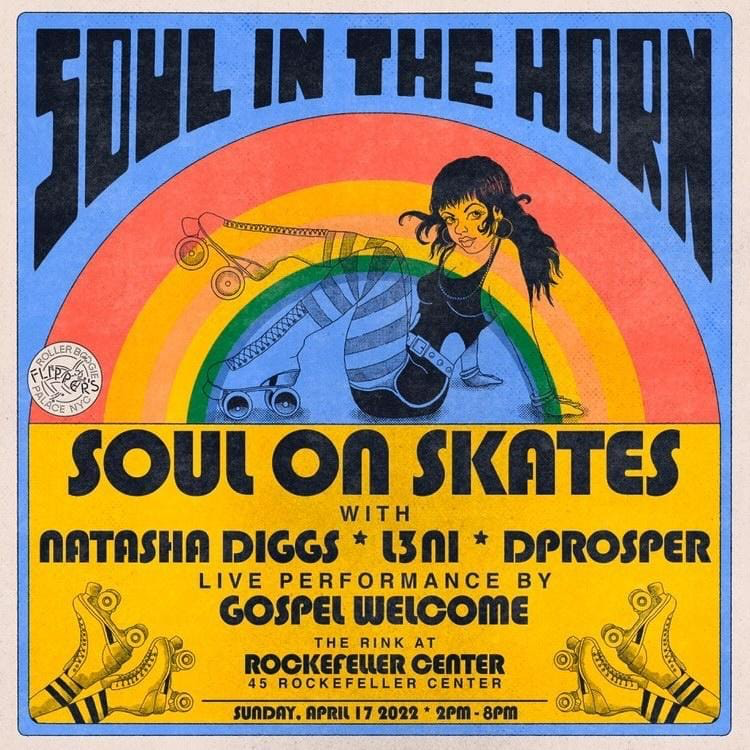 Live performances by the Gospel Welcome Choir along with the SITH horn section, including Drew Ashby and Germaine Brito, kicked off the first year at Flipper's World Roller Boogie Palace. 
Ian "Flipper" Ross opened the original disco inspired roller rink in 1979 in Los Angeles.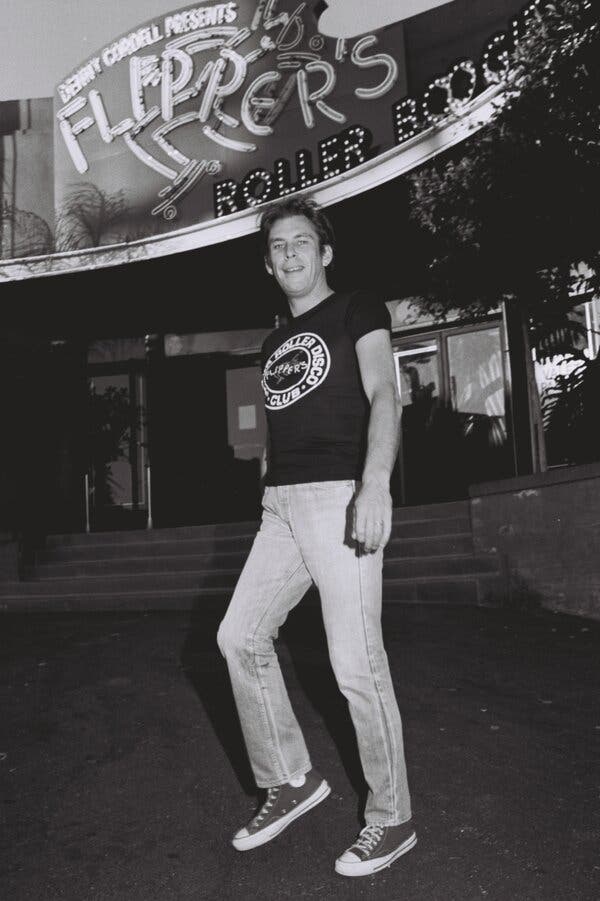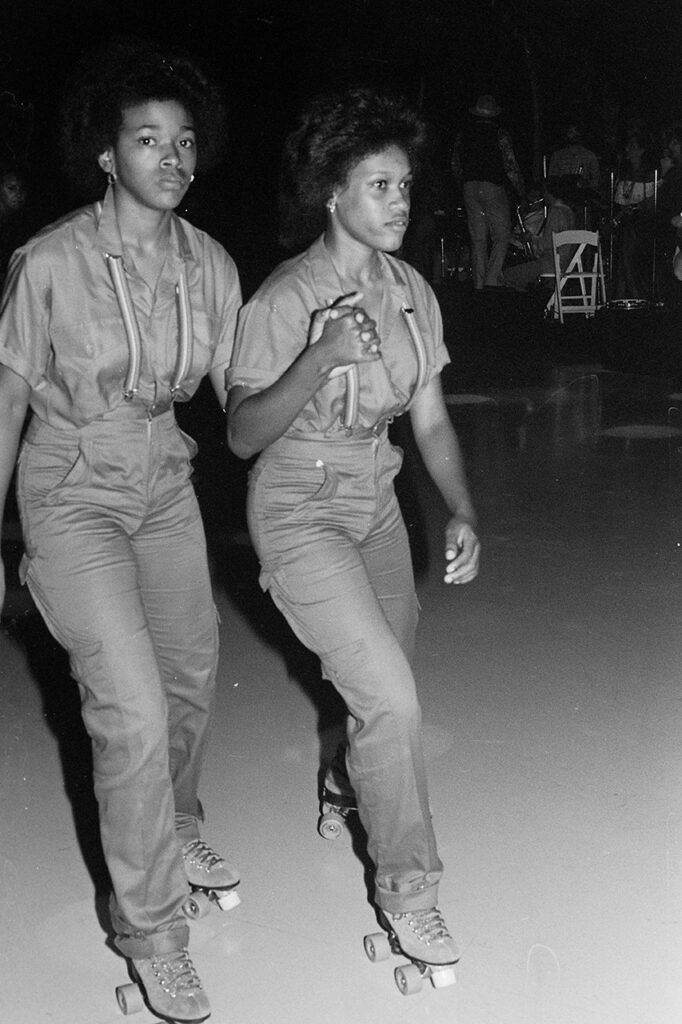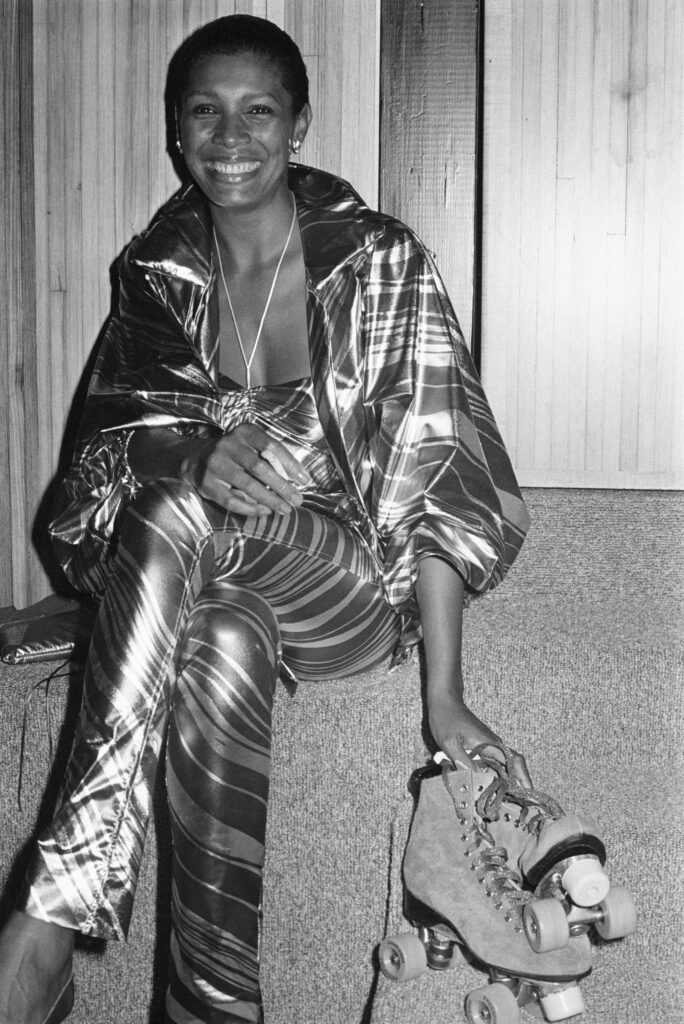 His daughter, the fashion model Liberty Ross…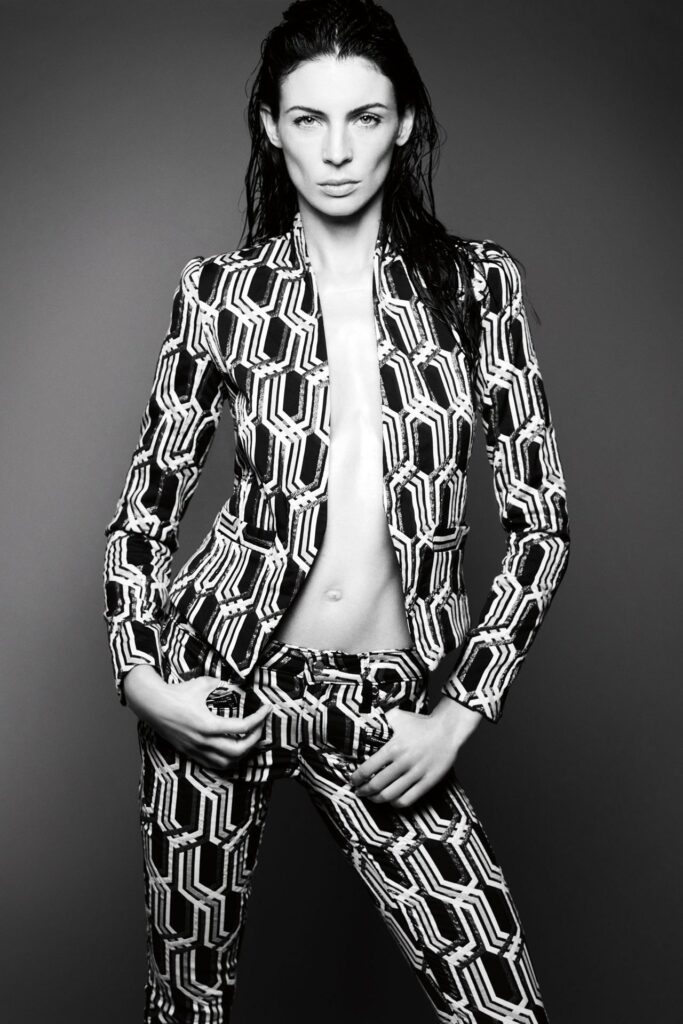 … has reintroduced Flipper's World to both London and New York with the intention of creating an inclusive and welcoming space for the public to enjoy the union of roller skating and music.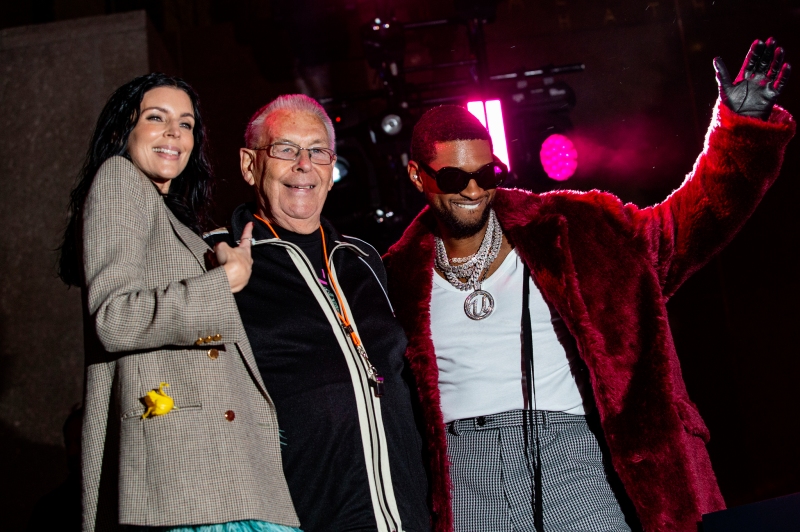 New Yorkers mingle with tourists observing from the upper terraces and the lower tables that line the colorful outdoor rink. Sixty thousand people glided on roller skates under the watchful eye of the 18-foot-tall, 8-ton bronze Greek Titan Prometheus by American sculptor Paul Manship during Flipper's World first season. Veteran skaters, happily rolling with those brand new to the sport.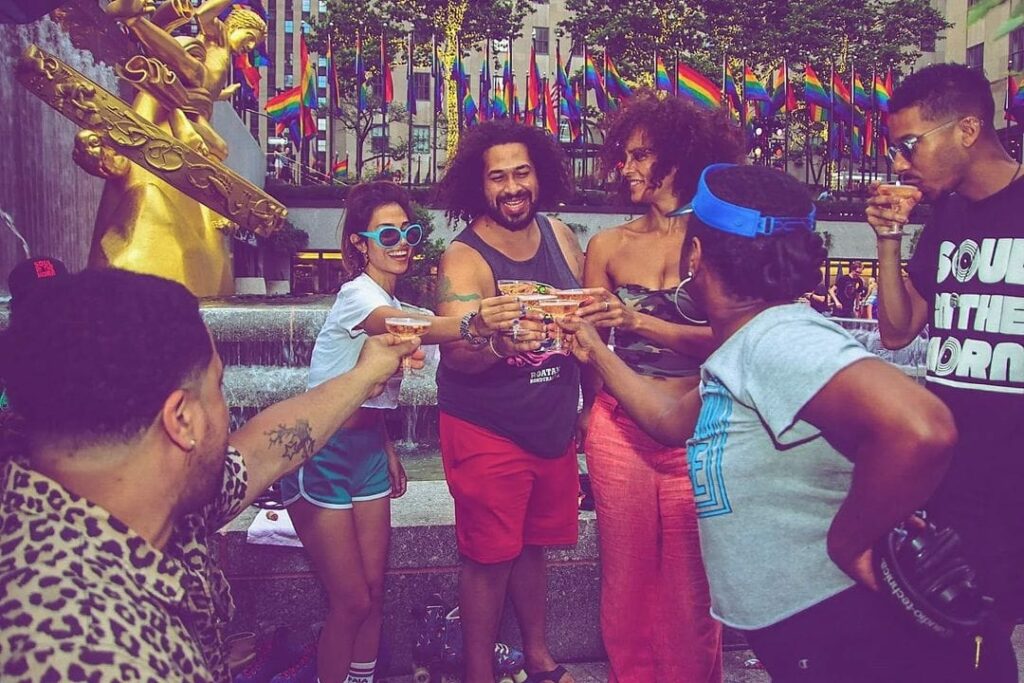 Eleni Maltas aka "L3ni Love"
Held down the SITH residency at Flippers world with a fantastic all-female DJ lineup each month.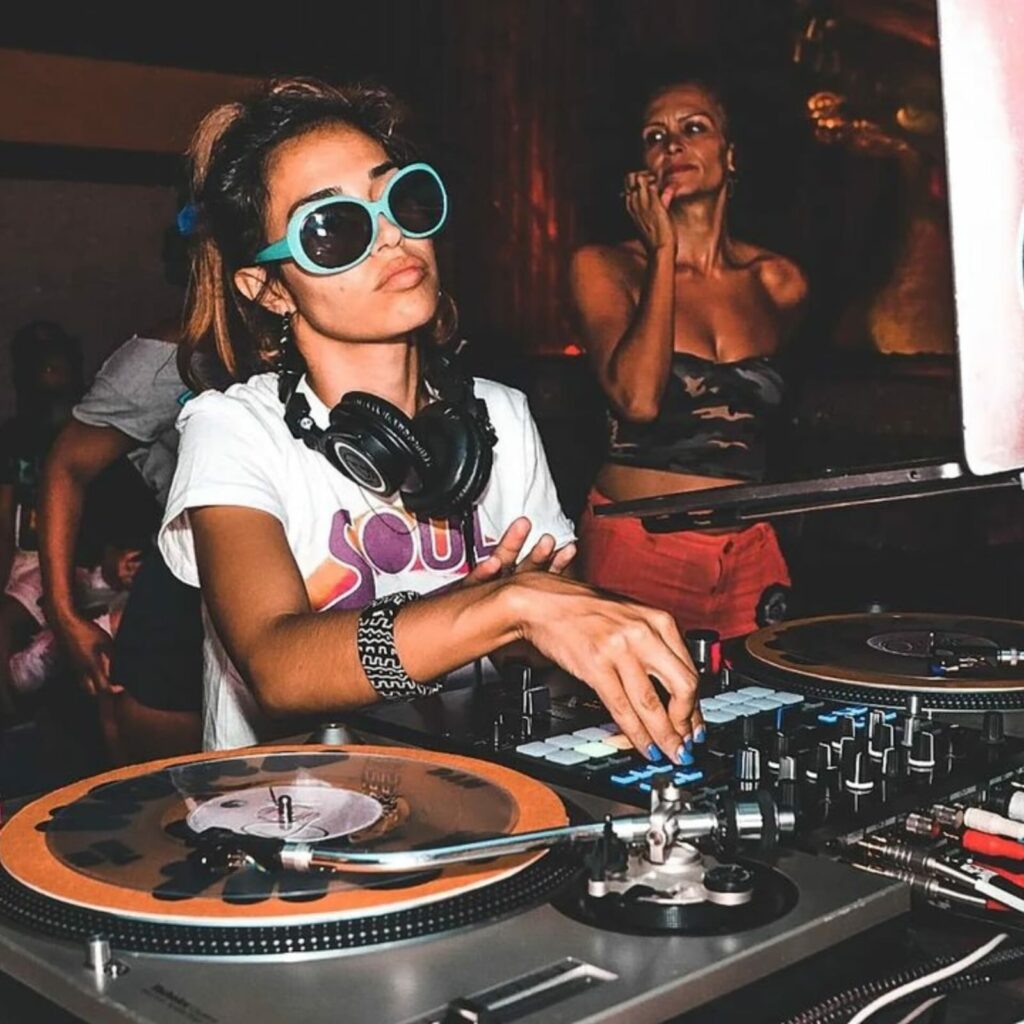 In addition to being a ground-breaking DJ, l3ni is a sound engineer, producer, composer and pianist. She shares more about her inspiration and how Soul on Skates began.
Flipper's reached out to Soul In The Horn to be a part of their opening weekend here in New York. Liberty Ross wanted to bring diversity back to Manhattan and thought SITH represented that. I love diverse music and tying threads between one genre and another on most of my sets, but I would say I like to go pretty deep when I'm playing in a club (obscure tracks etc). When I was putting together a set for the rink… it was in Rockefeller Plaza!
So I imagined people walking by and hearing one of their favorite classics: either rock, pop, hip hop, etc, and wanting to stop by and peek their head over the rails to see what's happening below. Maybe get inspired to throw some skates on!
We know some of the dopest ladies in the game! We thought it would be great to have that representation in one of the most populated destinations in NYC by tourists and residents alike. We're looking forward to another fun season in 2023!
We asked the lovely ladies a few questions on roller skating culture and their Soul on Skates experience for the 2022 summer season.
dj.shErOck*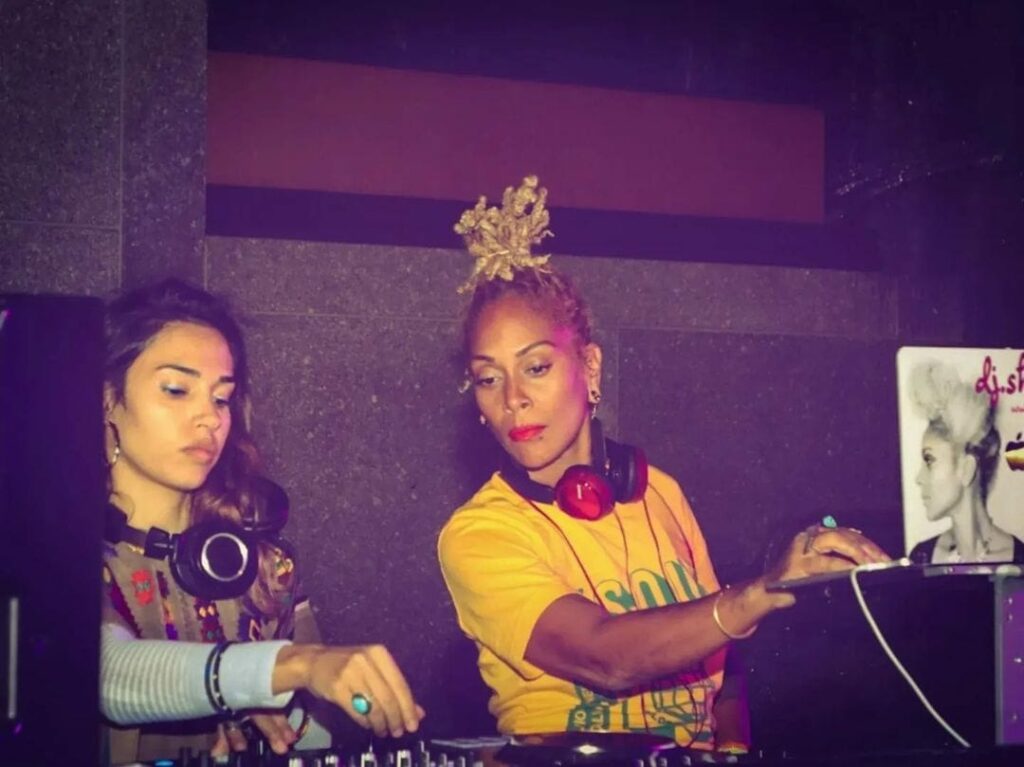 When was the first time you rollerskated?
I can't remember the exact age but I was mad young. I grew up roller-skating because my mom and aunt used to live on skates in the park, at the beach and just on the streets… So, at some point you could catch me doing the same, rollin' and always with a soundtrack in my headphones!
How did it feel to play a dj set for Soul On Skates?
It was dope, I hadn't played for a roller party before and I've always wanted to. And, I always appreciate being in a SITH line-up and especially with such talented wymyn (woman or intentionally spelled that way) on the decks. Plus, I love a reason to spin outside under the sky shapeshifting from 'sunscapes to the night-shine'.
How did you prepare your dj set for roller skating?
My preparation was mostly me thinking of the diversity of music I've enjoyed groovin' to when I hit the rinks or the streets. Planning tunes that people could sway, twirl, and get their life too. I just prepped with the mindset of knowing the vibe should feel fun, flowy, and free. Creating a sound energy for those new to the wheels and those ready to spin there wheels out!
DJ Kamala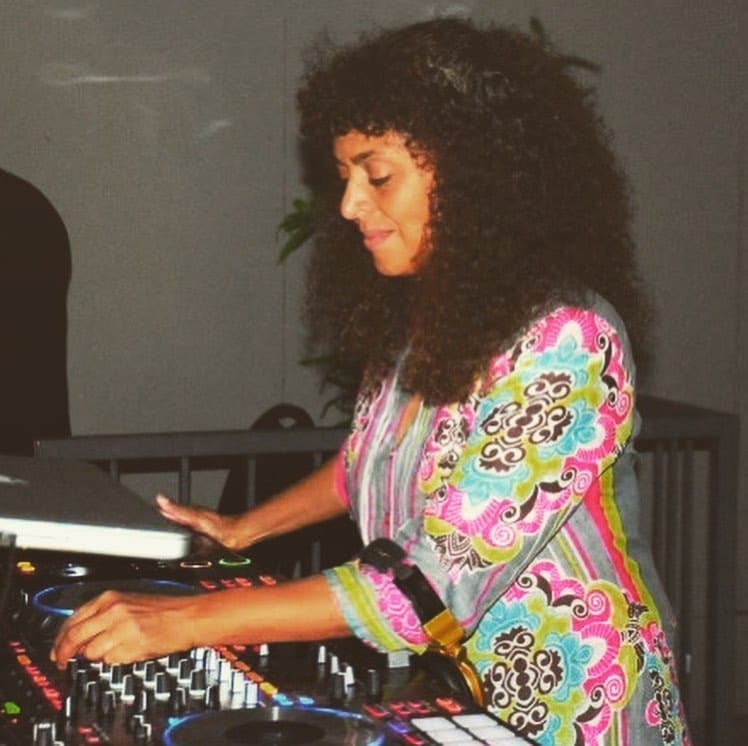 When was the first time you rollerskated?
The First time I roller skated at the Roxy, New York City's most legendary rink of the 70s and 80s, I was about 9 or 10yrs old.
How did you prepare your dj set for roller skating?
Preparing music, I selected most of my songs in a 110-116 BPM range. Lots of groovy classics, upbeat songs that I knew would make everyone move & groove.
How did it feel to play a dj set for soul on skates?
It felt absolutely iconic to spin in the heart of Rockefeller Center. As a native New Yorker I relish these personally historical moments with me and my mother city
.
DJ Ayanna Heaven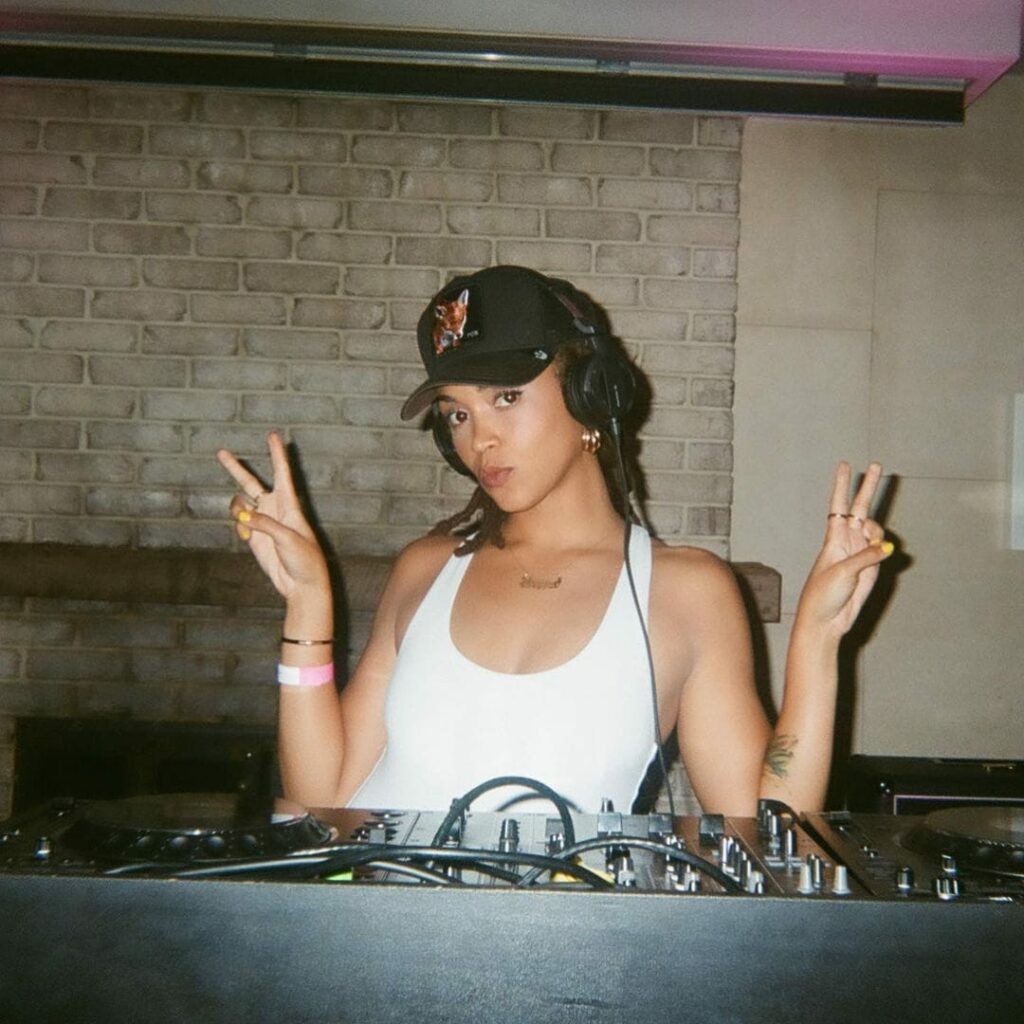 When was the first time you rollerskated?
I roller-skated for the first time when I was around 10 years old! I got a pair of roller blades and would skate around our apartment complex with my sister.
How did it feel to play a dj set for soul on skates?
It was amazing! I loved seeing how the skaters would respond to the music that I was playing while dancing on their skates in the ring. I also enjoyed throwing in some music not typically associated with skating, such as dancehall and afrobeats.
How did you prepare your dj set for roller skating?
I tried to make sure that the set was as high energy as possible, while also keeping it interesting by throwing in a diverse blend of genres. I started with some disco and house vibes and then progressed into amapiano, afrobeats, dancehall, hip hop, and quite a bit of R&B. I wanted to keep the set high energy while also making sure the vibe was seamless throughout.
Gab Soul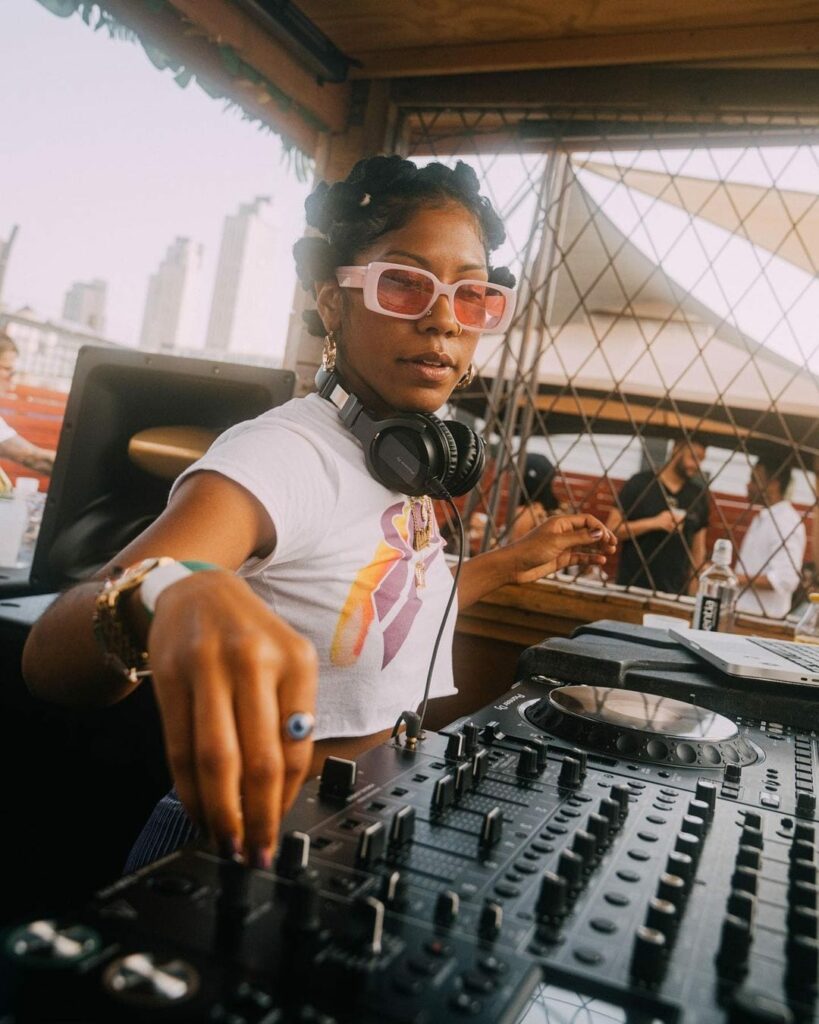 When was the first time you rollerskated?:
I was around 6 or 7 and I remember practicing in the house feeling like I could fly once I got my balance. I used to skate a lot at my elementary school's skate nights – me and my friends were really into it! I had a birthday party at the skating rink and everything.
How did it feel to play a dj set for soul on skates?:
It was super nostalgic and imaginative. I tapped into the feeling of whizzing by to your fave songs and how it feels to skate on beat. I also admire the vibe of roller skating culture in the 70s & 80s because the music and style made it such a funkier experience, and I wanted to evoke that feeling.
How did you prepare your dj set for roller skating?
The first words that came to mind were "Bounce, Rock, Skate, Roll." Classic disco, funk and all the soul in between are my favorite sounds to play in general. I thought of all the soul skaters I watch and admire and played music for people like them whose joy encourages others to give it a try.
Lucy Euclid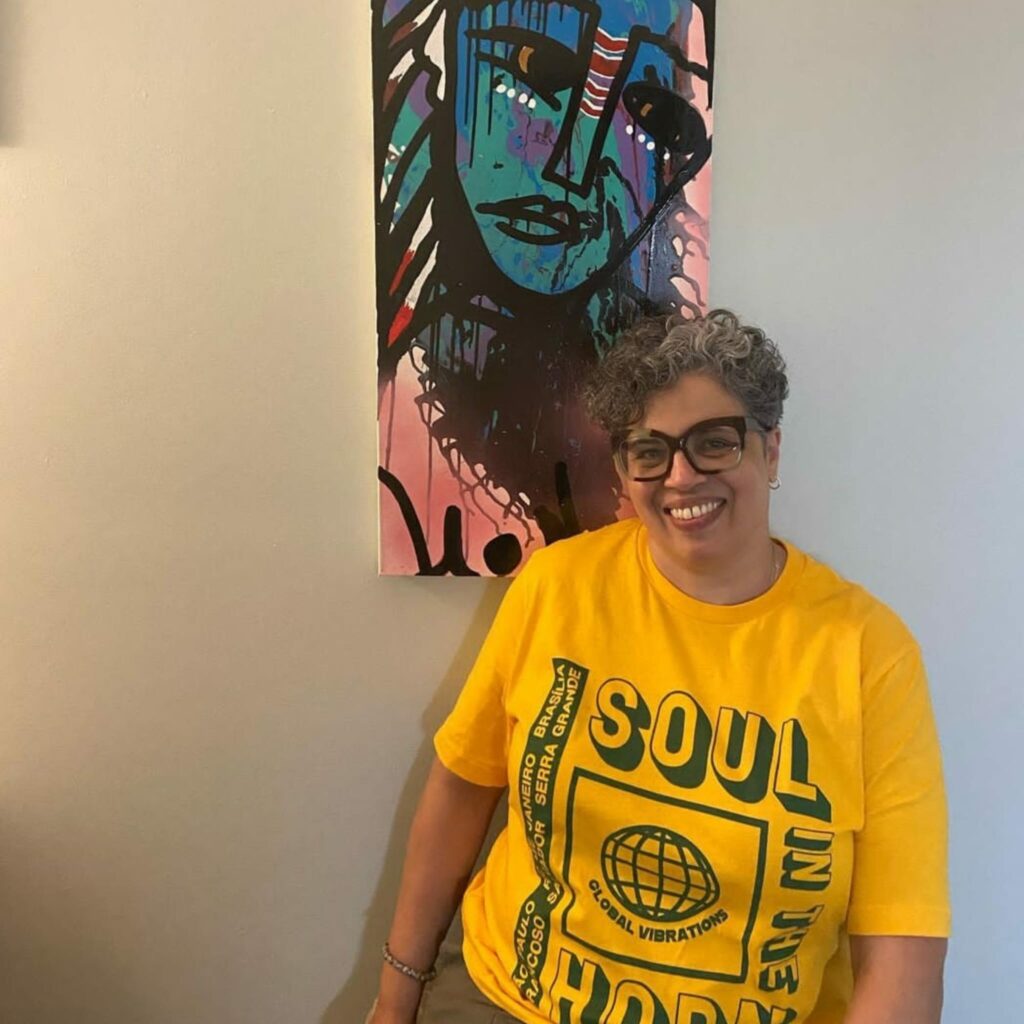 When was first time you rollerskated?
I was 7 the first time I put on roller skates. I would strap them on to my sneakers and they had metal wheels!
How did it feel to play a dj set for Soul on Skates?
It was like a dream! I still pinch myself when I tell folks I played a set for Soul on Skates at Flippers – Rockefeller Center! It was a great night with the Soul in the Horn Family. The crowd, the skaters, the dancers, meeting new friends, made my night!
How did you prepare your dj set for roller skating?
I chose records from my youth that I recalled roller skating to. I then chose records that had that same kind of feel and groove.
DJ Lea
When was first time you rollerskated?
I started roller skating almost as soon as I could walk. When I was 4, I had the all-metal skates with metal wheels and leather straps that you would use to attach them to your sneakers. In the neighborhood where I grew up (in Canada), there was only one alley that was paved and had a steep hill. All the kids on the block would get together there to skate down it. I remember distinctly how awkwardly heavy those skates were and how the metal wheels rolling over rocks and pavement was such a rough ride that it made my teeth knock together. Then when I was old enough, my friends and I would go skate at the local roller boogie rinks, where all the teenagers hung out.
How did it feel to play a dj set for Soul on Skates?
The opportunity to DJ at such a historic landmark as Rockefeller Center and for the famed Flipper's World was exhilarating. Combine that with Soul on Skates and it takes it to another level. Soul in the Horn has cultivated an amazing community of dancers, musicians, artists, and creative spirits. It's always a phenomenal experience to play for such a collective of passionate music appreciators and dancers. As a DJ, there's nothing I love more than feeling the energy that reverberates from the dancefloor – it's all about the people with you that creates the magic of the experience. It was a total rush to be on the decks with a view of the fountain and the golden statue of Prometheus. And it was entertaining to watch the "activity" on the rink, from the awkward newbies to the seasoned skate dancers, and kids wiping out.
How did you prepare your dj set for roller skating?
I play primarily afro house, soulful house, deep house, and sometimes classics. I have a deep love of 70s classic funk and soul. Since the peak of the roller-disco era was in the 70s and early 80s, I wanted to give a nod to the music of that era while making it fun and fresh. Since it was at Flippers, it felt right to pay homage to nyc dance culture and infuse some classics into the set.

Some of the tracks I played included remixes of classics such as "Streetlife", "Let No Man Put Asunder", and "Don't Look any Further", among newer and uplifting soulful, latin, and south african house joints. I especially loved rocking the energetic edit of MJ's "Thriller" (motafied remix) by Black Motion. The drums in it are nuts, such a fun track to play and dance too. It was great to see people of all ages vibing to the music. Truly a wonderful and memorable experience which I was thrilled to be a part of.
DJ Monday Blue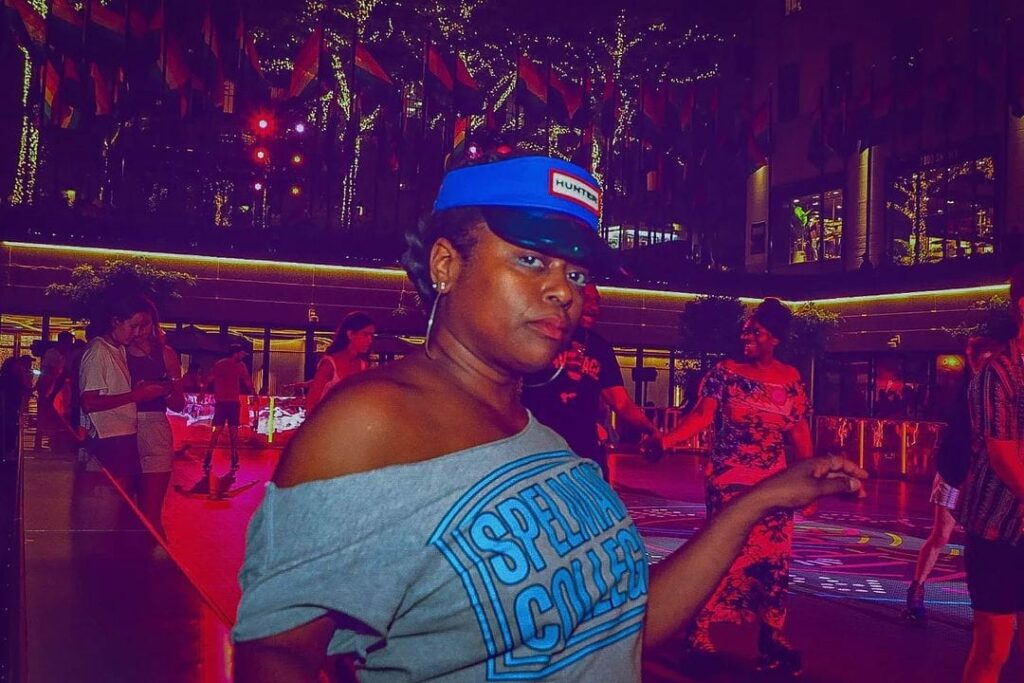 So Monday Blue you have a rich roller boogie history. Please tell us more about your interesting backstory with roller skating?
From Star Wheels to Soul On Skates
It was an early Saturday afternoon at my grandmother's house. We had finished doing laundry at the washerette two streets away and made it back home in time to fold and put the clothes up while dancing to Soul Train. I got so excited because that meant it was finally time for my twin aunts, my mother's youngest siblings, to take my cousins and me skating at Star Wheels, the smallest of the two roller rinks in my hometown. Until then my only skating had been on the bumpy street in front of my house wearing metal skates over my sneakers, which meant more falling than gliding.
When we walked into Star Wheels I was mesmerized by the disco ball in the center of the vaulted ceiling glittering in the glare of neon lights that surrounded it. The music was rhythmic and loud; the floor wooden, shiny, and slippery smooth. There was carpeting with a space motif on the floor and benches along the sides of the rink. I was enthralled, possibly in love.
My aunts helped us rent our skates, faded brown leather with orange wheels, and get them on. One of them held my hand and took me onto the floor. It took me more then a few trips around the rink to get used to gliding instead of falling but I finally got the hang of it. Around and around I went, rocking to whatever beat was playing. It felt like flying. I was definitely in love.
Years have passed since that first trip to the rink, and I still love the flying feeling I get when roller skating. Combining skating with another of my loves, deejaying, makes me feel that I'm exactly where I'm supposed to be in this universe. I channeled that passion and feeling of flow into my Soul on Skates set, linking genres, rhythms, anthems, and energies that included funk, disco, gospel, boogie, nu soul, a
sprinkle of R&B, Diasporic vibes, and deep house.
I wanted to create a set that flowed like the wind; sometimes strong, other times gentle, but always wrapping the rink and everyone in it in a rhythmic sensation designed to make everyone present
feel that all is right in the world and to help them remember how to fly.
DJ Heidy P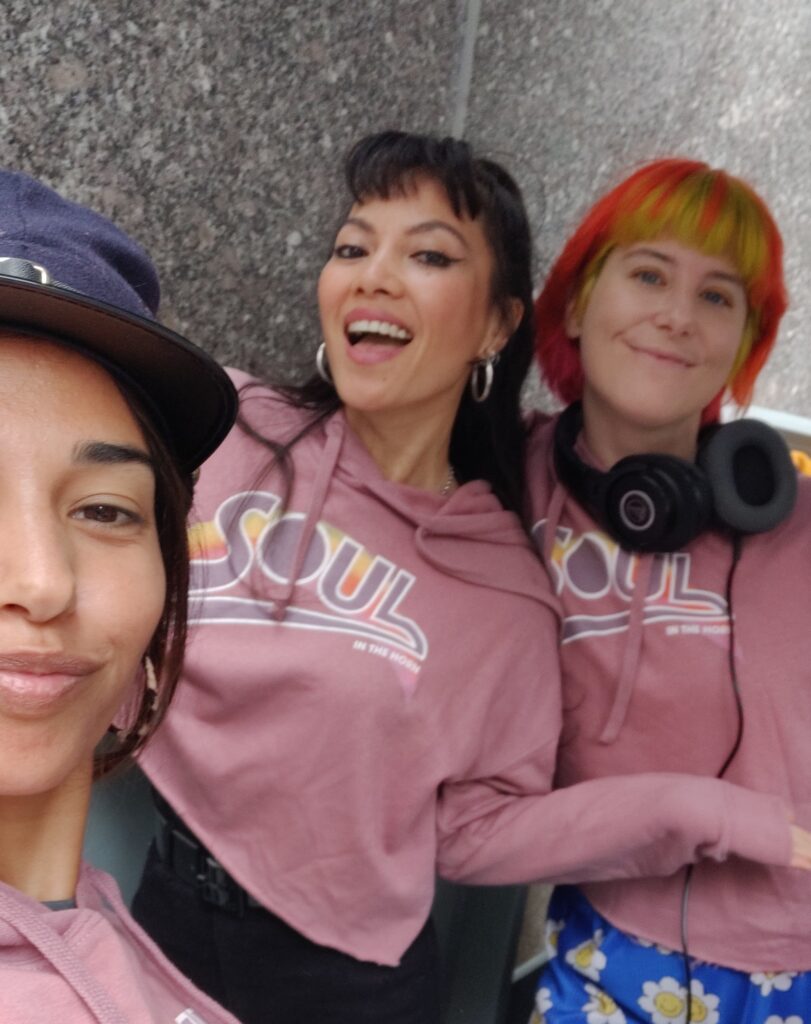 When was first time you rollerskated?
I'm ashamed to say I'm not a great skater. During the pandemic I traded a wine bottle for a vintage pair of roller skates and I skated a few times in my apartment while tuning in to SITH Global Vibrations but I've been too shy to try and skate in public.
How did it feel to play a dj set for Soul on Skates?
It felt special for many reasons! It was my first time DJing in person with SITH and it was a real honour. It was also special because it was the first time this year that the Rockefeller Center had welcomed roller skaters since 1940. It felt great to be part of this.
How did you prepared for the dj set for roller skating:
I put together some songs I thought would be fun to move to and did my best to have music covering many eras so everyone would have something to skate to no matter how old they are.
DJ Ankia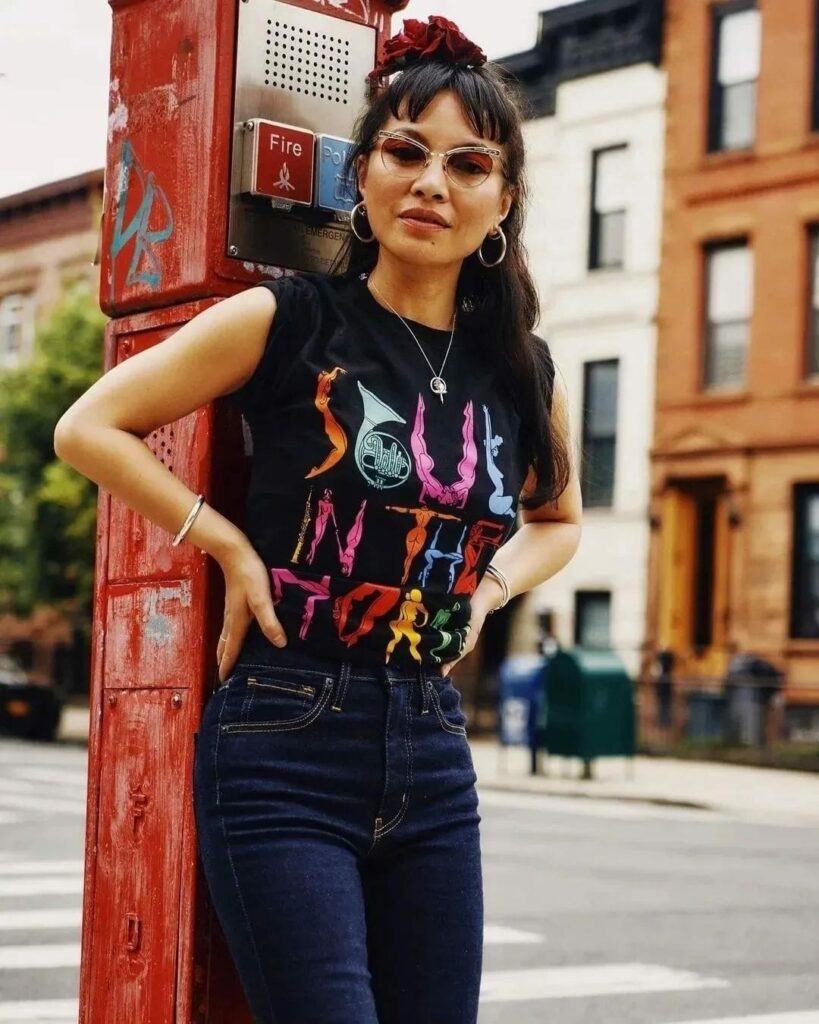 Rocked the Soul on Skates stage September 25, 2022, started roller skating as a kid in her native Australia.
People are surprised that I have an accent. Ha-ha! Actually they're surprised that I know and play some of the songs that I do, which is a huge compliment! I think perhaps I was 8 or 9 when I started skating. We didn't have any type of rink nearby, so I skated any place I could. If there was an extended patch of concrete, I would skate on that, or a sidewalk. Actually I think I even skated on grass just because I wanted to skate.
It's really a beautiful feeling to DJ amongst an all female line-up. There is a sense of love, unity, and support when being with the sisters. My approach to music does change in regards to playing at a roller rink. I think it's important to build an array of vibrations for skating. Different energies, tempo, and feeling, so when you're gliding around that rink you can really feel into the range of oscillations and kinetics. Flipper's was the first time that I've skated in years. I would love to do it more.
DJ Quinnette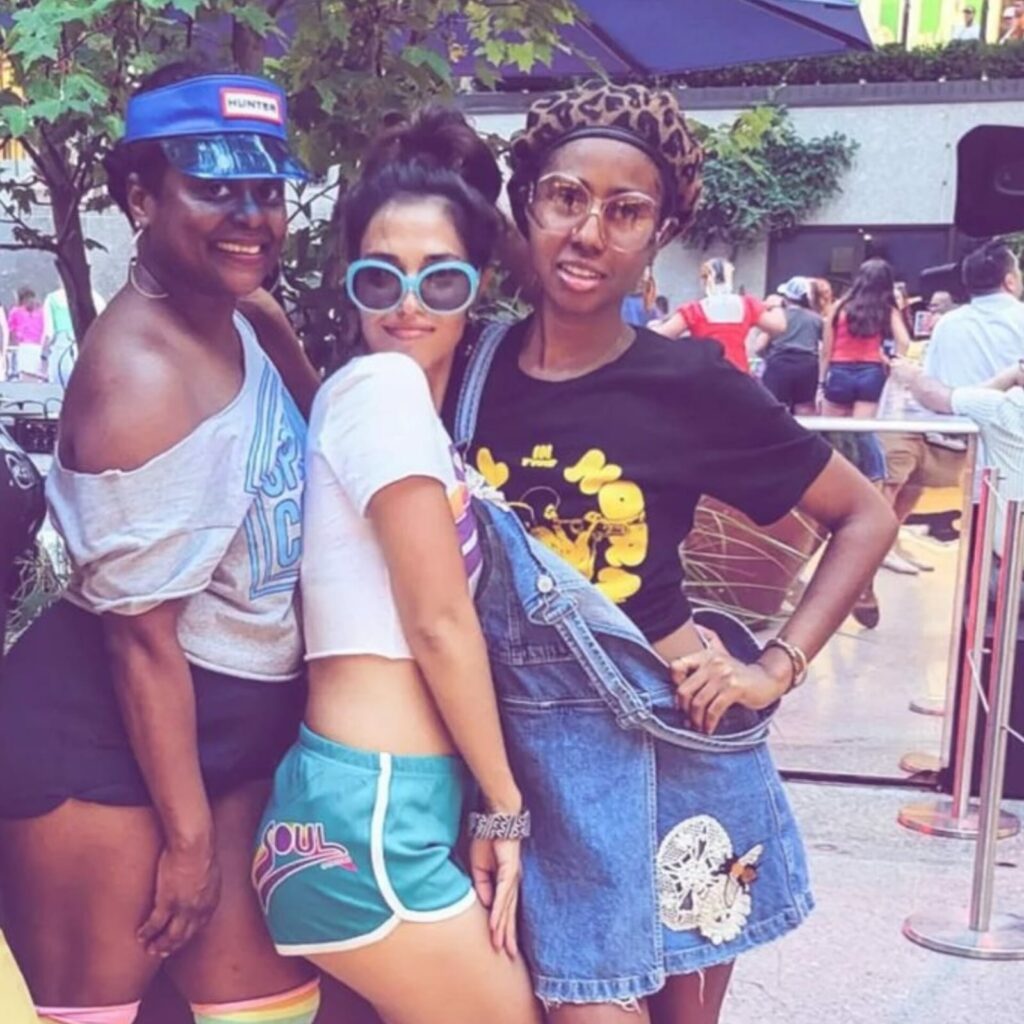 …rocked the Soul on Skates stage June 2, 2022. The Brooklyn denizen shares her creative process when selecting music for roller skating, her experience as a newer DJ on the New York scene, and being a part of the Soul in the Horn creative community.
Selecting music for people to skate to comes from the groove of my soul! The main things I ask and consider are what feels good, what grooves, and what brings joy? Sonics that are light enough to float to, yet strong enough to bounce. I began roller skating when I was 12 years old and was heavily influenced by the movie Roll Bounce. My brother and I loved the soundtrack. It played a hand in approaching music as timeless! If it's great it's great, you can play it forever without restraint. In retrospect, I often credit those experiences at the roller rinks in my native Kentucky toward the inspiration for finding my purpose as a DJ.
We would skate to the same songs every time we went to the rink, and they didn't necessarily have a consistent groove all of the time. It made me curious as to how I could get involved with spinning music and what touched people the most, individually and collectively! It then became a dream of mine to DJ at a roller rink. To do my first one with Soul in the Horn means so much! Deeply.
Being a DJ in NYC has been a blessing. Musically I feel more free here! I definitely have a slower approach and that shows in the way I spin. But all the while it serves as a life lesson to be in tune with God and be myself, even in such a tough city. I can never fail if I keep those things. Allegorically, it's like observing the harmony of the rink. I take time to see how when people are in their rhythm, there may be people falling and not on the beat per say; but the whole experience is still innately harmonious. And once you find your rhythm, you can help others when they fall.
I have been pushed so much in NYC… I'm finding my rhythm and am thankful for all the DJs lifting me up and supporting me as a newcomer! I love Brooklyn! I love Soul in the Horn! I need to learn how to get really nice on the skates ha-ha, but that will come in time.
I always say women make the best DJs, because we actually listen!
Intuitively it's a blessing and a joy to spin with sistren who have the deep love for music and naturally inspire through the nurture of music. Woooow!
Marshall Vanderpool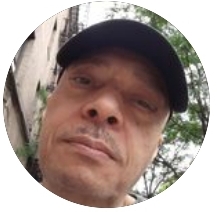 … is a 50 year veteran of the New York roller skating community and a Soul on Skates regular.
I still skate because I enjoy it. I really appreciate l3ni and the embrace from the SITH family when I attended a function she invited me to earlier this year. Music has evolved in so many ways over the 50-year span since I started skating. Bounce, Rock, Skate, Roll by Vaughn Mason and the Crew is perhaps the most universal skate anthem made. Personally, I like Over Like a Fat Rat by Fonda Rae and He's the Greatest Dancer by Sister Sledge.
Historically music moved from DJs with an MC (for crowd motivation) to rappers being the focus (and DJs playing the beat) on one hand, and the Disco era where people were dancing to the hustle beat on the other. A third fork of what I called Underground Music from the steamy clubs like the Paradise Garage, which today is probably House Music. For good measure some of the electronic rhythms are found in New Jack Swing.
The summer of 2022 was a phenomenal resurgence in New York City skate culture for me. I started skating around 1972 with my brother as a junior in high school. We skated in Brooklyn at Empire Rollerdrome, which I consider the mecca of roller skating in New York City at that time.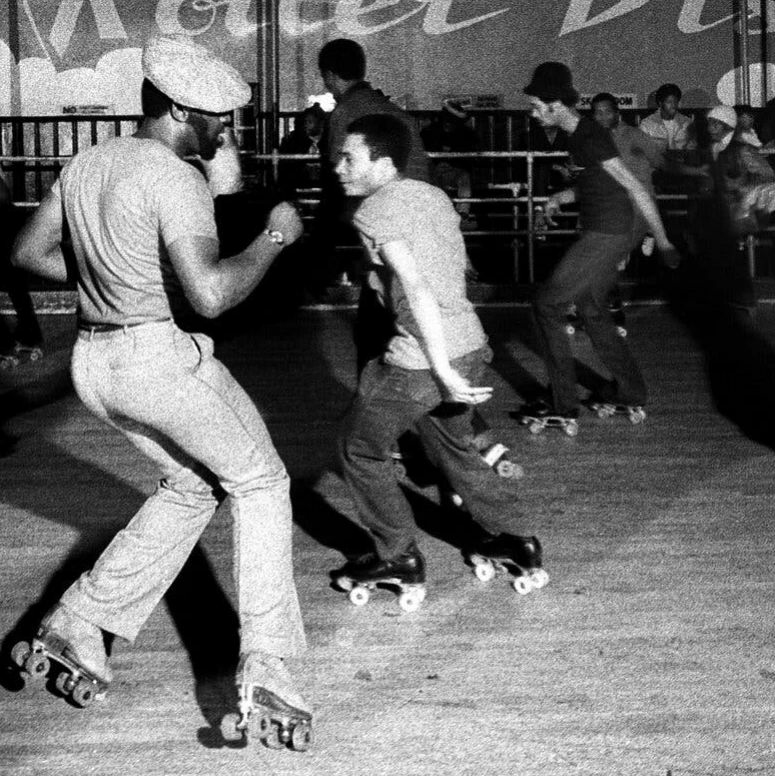 There were other rinks (Roxy in Manhattan, Park Circle in Brooklyn, Skate Key in the Bronx) but I think of Empire as the focus. A New York Times article featured the "hot new craze" of nightlife in New York City. If you couldn't get into Studio 54, you had a better chance of getting to skate at Empire.
The Soul on Skates residency tends to have very talented female DJs. The immediacy of a live DJ is always better than "canned" music. I find the Soul in the Horn DJs some of the most responsive, feeling my rhythm and me feeling theirs in the music: synergy. This synergy also envelopes the skaters. I have to look at them too. Some have the pace and the vibe, others who don't see mine and aspire to it.
Roller skating is a return to your childhood, the best parts where the fun is hidden. Find a rink and try it. If you want to get some beginner tips try watching Skatie on YouTube, her tutorials are very accessible. Chances are you'll rent your skates in the beginning but if you find you enjoy it and plan to continue, get your own. Safety is always a concern, so consider wrist guards as a minimum. (The tendency to catch yourself when falling leads to many wrist injuries.) The floor guards at Flipper's World have been very generous in giving coaching to novice skaters.
Soul on Skates will open its second season at Flipper's World Roller Boogie Palace in April 2023.
Stay tuned for more updates and information about how you can join us and be part of the Soul in the Horn community.
Written by Wanda Benvenutti
Copy Editor: Gibril Kuyateh