It was a cold winter day in 1991 Providence, Rhode Island.
I traveled to my friend Ibrahim's photo studio. He was an older Muslim brother who I met sipping ginger tea with other elders at AS220, a community arts center Downtown.
We would discuss art, books, politics, spirituality and of course Jazz. Taking turns picking out records at his studio… he had a deep and extensive jazz collection.
Being an avid Coltrane fan, I stumbled across "Live In Seattle", an album by John Coltrane featuring Pharoah Sanders… this would be my introduction to The Late Great Pharoah Sanders.
Pharaoh was one of the last musicians to work with Coltrane before he transitioned. His work as Coltrane's last disciple intrigued me. I knew the magic John Coltrane possessed had somehow rubbed off on Pharoah Sanders and it didn't take me long to realize that spiritual jazz was left in the right hands.
Coming up in the poetry scene, I ran across a lot of musicians, painters, dancers and creative people. Rhode Island always had love for jazz, and dance hence the iconic Newport Jazz Fest and others…
Jazz lovers and music nerds were always around me, schoolin' me, putting me on to their favorites which inevitably helped me build my own vinyl jazz collection.
In my youth, I was an old soul yet a rebellious hip-hop head at heart. 90's Golden Era of Hip-Hop was my shit, but Spiritual Jazz became my sonic self care. Whenever I was stressed or angry about something I would go to my record collection, roll up a joint and zone out to Pharoah Sanders, Sun Ra, Alice Coltrane, Leon Thomas, Rashsaan Roland Kirk, Gary Bartz… I mean the list goes on.
It felt like these musicians were sent from another galaxy to help heal my earthly traumas.
Pharoah Sanders pushed the limits of his artistry. Each album is distinct and unapologetically black. His music had no borders and out of nowhere his songs could just drift into the void or gracefully move into beautiful parts of the unknown and I really applauded that bravery in his creative process.
I found myself on a quest to find more of his music. I would stop at various record stores and yard sales in Providence, Newport, Amherst and Cambridge looking for jazz samples to chop up to make beats on my ASR-10 & MPC- 3000. Without a doubt, no matter what record store I entered I would always ask first, "do you have any Pharoah Sanders records"?
Pharoah's "Karma" album was a staple… The cover alone pulled me in. Him sitting like a master yogi in Baddha Konasana stance made me wonder what type of offering was on this recording and what journey it would take me on.
I got home, took the vinyl out of the sleeve, dropped the needle on the groove and off I went on a musical journey… The sound awakened my nervous system. I got chills on the back of my neck, my restless spirit had found a sanctuary. This Black classical composition felt like my first initiation into the realms of Afro Futurism.
It was at this moment that I realized that Pharoah Sanders was my hero.
"The Creator Has a Master Plan" would be on heavy rotation in the background as I wrote poetry, chopped samples and came up with rhymes.
I felt inspired to dig deeper… my curiosity got the best of me. I needed to know who helped construct these masterpieces.
Reading the liner notes, I marveled at who played on what songs, what types of instruments were being used to create these gems and studied what studios they recorded at and the record labels that had the vision to release such stellar music.
When it was time for me to find inspiration I would play the Black Unity album.
I was completely hooked and stoked to find every record he ever recorded. His album covers and art direction always drew me in.
"Thembi" was otherworldly & kinda out there but I thoroughly enjoyed it.
"Love is Everywhere" filled me with an overwhelming sense of enlightenment like his music was a form of ancient healing and a way to talk to higher beings.
The song 'Elevation' touched my spirit deeply. I would never be the same. His mastery of melodicism transcends space and time.
The sounds of soprano saxophone, bells, and shaker, piano, bell tree, drums percussion, in unison reinforced my belief in the power of vibration, sound levitation and source energy. His audio alchemy opened my pineal gland and allowed me to astral travel into higher realms.
I never knew music would touch me in such a profound way. Giving me the mental clarity to follow my dreams and even gave me the courage to move to New York City.
It felt like black super hero music, like his tenor sax unlocked the mysteries of the pyramids.
Songs like Upper Egypt and Lower Egypt got me wanting to research my connection to Kemet, more commonly known as Egypt.
It felt refreshing, so avant garde.
So revolutionary.
The first time I heard Pharoah Sanders live was in 1997 in Central Park, I cried tears of black joy.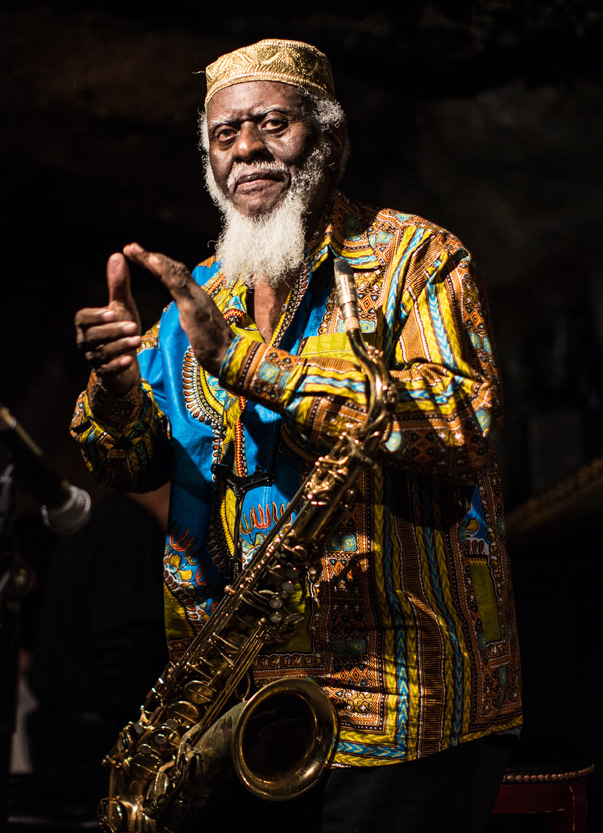 It was a full circle moment, it reminded me of the many hurdles I went through and how his music got me through it. I was witnessing my rites of passage into manhood through his performance in real time.
Some people would complain on how noisy or chaotic Pharoah Sax solos would be. But for me, out of the chaos came a calming of the storm which brought us to a utopia… a sacred warm destination.
I know in my heart, his music was created to uplift the collective consciousness.
Pharoah, I thank you for leaving us with magical music that will live for eternity.
Written by DProsper