Diggin' In London – Record stores for many are sacred homes away from home, sparking connections with other collectors, and building community through regular music fellowship. Sadly many of London's iconic Record Stores of the '80s, '90s and 00's such as South London gem's Red Records (Brixton), Rhythm Division (Roman Road) Uptown Records (D'Arblay Street) Lee's Sound City (New Cross), have closed down due to gentrification, or economic crisis.
The pandemic has forced many surviving stores to either close altogether or sell online. It has proven to be a winning formula that Discogs tapped into very early in the digital era of sound exchange. Nowadays UK connoisseurs and tourists enjoy spending their days at legacy stores. Such as: 'Pure Vinyl Records' (Ferndale Road, Brixton) stocking a wide variety of styles from vintage cuts to modern treasures by the talented; Pure Lab Beats, or Moses Boyd.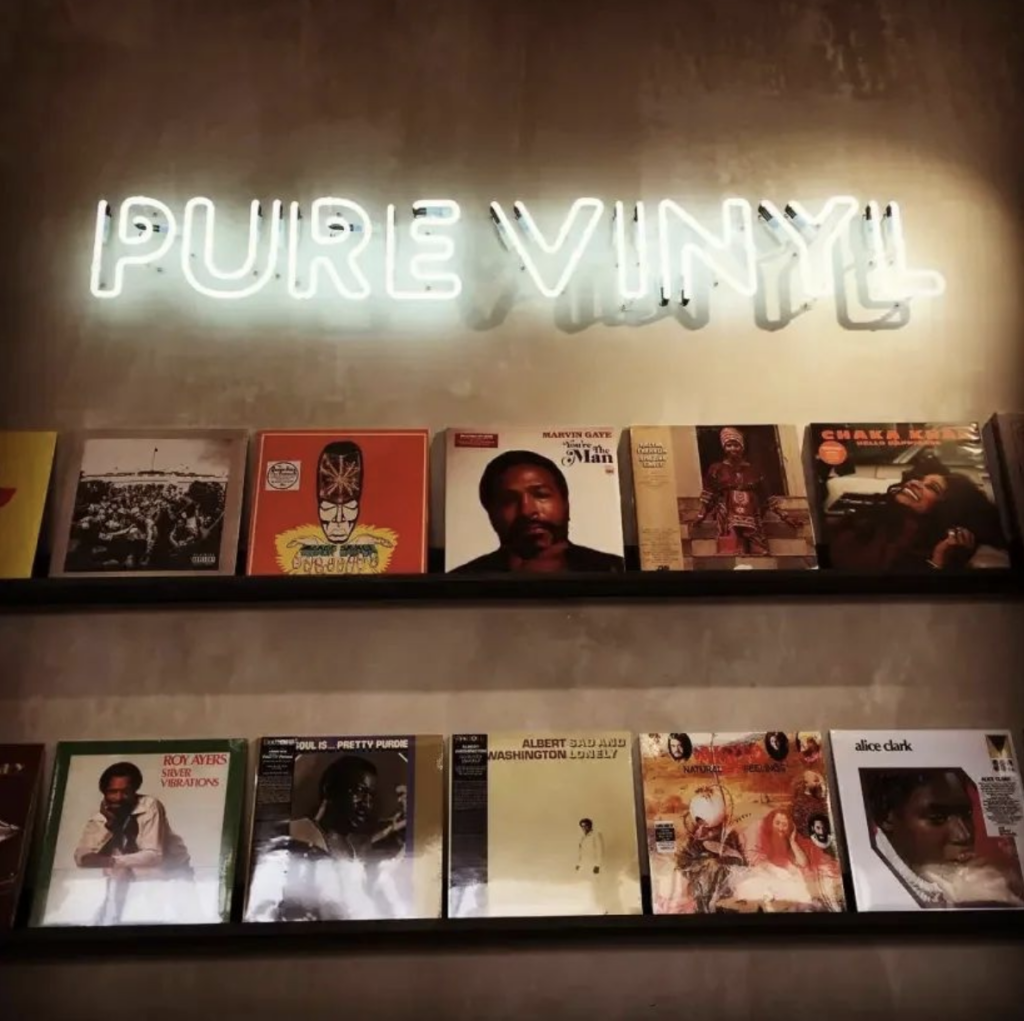 Pure Vinyl is a pillar of the Brixton community attracting artists like Reggae legend Dawn Penn to visit from Jamaica. DJs can always trust this store to provide accessories, second-hand gems and imported heat from the world of Soca, Nu Funk, to those all-important unmissable Jazz re-press records. This store has a strong family presence. It is evident when they pay homage to the legendary Brixton hero, TY with annual celebration performances since his transition.
Supertone Records
Brixton's oldest Vinyl Store is 'Supertone Records' on 110 Acre Lane, opening in 1983 and having its hands on the pulse of Reggae music. Proudly owned by Wally Bryant this Sound System veteran has ensured his store is a true emblem of Brixton and symbol of Black Britain stocking Ska, Dub, Dancehall, Rocksteady, to Lovers Rock. It's no wonder why legends such as Dennis Brown, Twinkle Brothers, and Gregory Isaacs were keen visitors in between tour dates.
After people max out their credit cards and pack newly purchased vinyl into bags or boxes (depending on how crazy their spending game is). If you fancy more digging, then jump on the London Underground to Soho, where 'Phonica Records' owned by Simon Rigg is one of London's most popular Record shops. Specializing in Dance and Electronic music.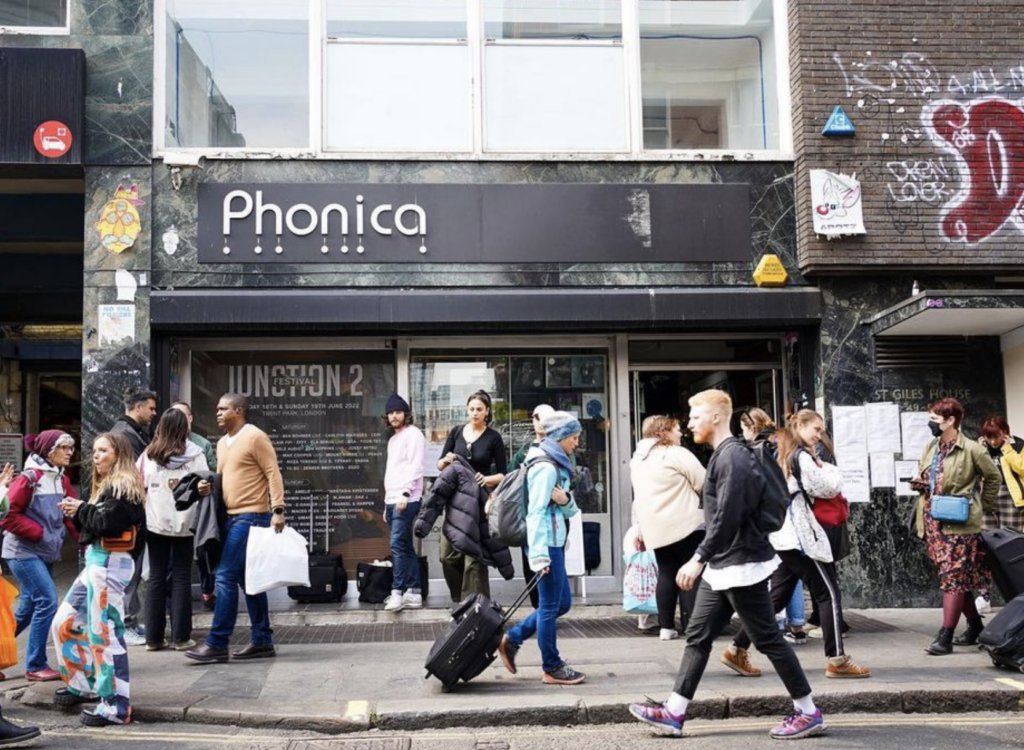 Wax fans also take great pleasure in checking out Phonica's collection of rare Soul, Hip Hop, House, Techno, Funk, and Broken Beat to name only a few. House heads get carried away with the vast array of cuts from Strictly Rhythm records, Moodyman, Omar S, to Masters at Work, they literally stock it all. 

Phonica is known to go beyond being another record shop. It's a well-respected Record Label with various sub-label imprints, and club nights plus it hosts regular in-store events showcasing international DJs that flock to 51 Poland Street, Soho to spin music for devout vinyl lovers and fans. House heavyweights like Louie Vega, Karizma, Kerri Chandler have spun records in store as spectators walk by, or are pulled in by these pied piper's infectious selections and DJ skills.
Reckless Records
Other Record Stores in Soho include 'Reckless Records' which is the oldest store in London's Soho, on 30 Berwick Street, established in 1984 and still going strong. This second-hand specialist location is trusted to have a deep supply of LP's, 45's and CD's.

Around the corner on 7 Broadwick Street, Soho Is the infamous 'Sounds of the Universe' which is connected to Soul Jazz Records. Shipments from Brazil, Japan, Jamaica, USA and many more. People love visiting this store to expand on Dubstep, Latin, African, and World Beats, plus purchase books and DVDs.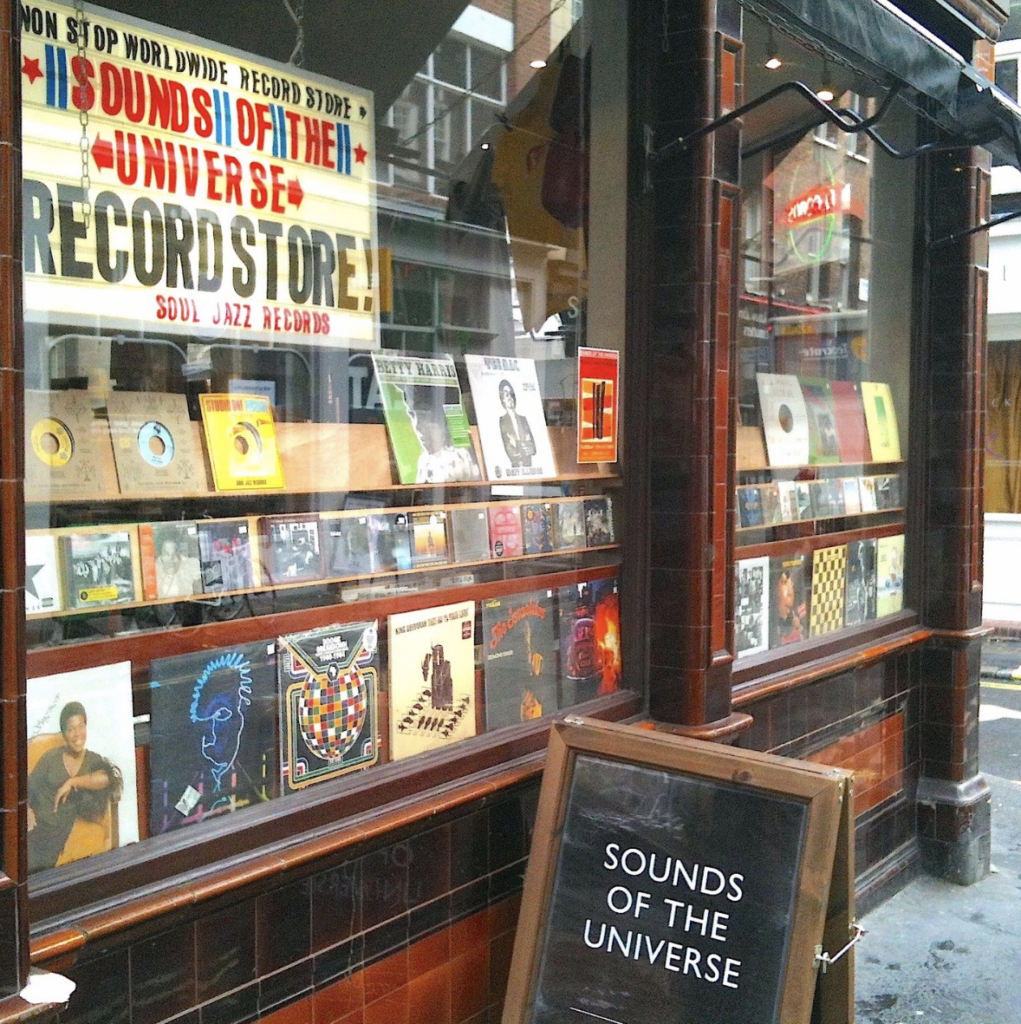 It's impossible to mention so many record stores and not salute 'Maestro Records' in South London's Peckham, which despite so much gentrification within this particular area. Much of the African-Caribbean traders are embedded in the new community of chic new hipster bars and restaurants. Owner Michael Fountaine has preserved this Black music shop which used to be Reed's Records between 1950-1990s. So Maestro stands on the sacred ground while selling a variety of both new and used LPs, 45s, CDs. Plus concert tickets, books, hair oils and more to meet the demand of the all-new Peckhamites.
When in London
When in London be sure to visit stores such as Yo-Yo Records (Bethnal Green), Sounds That Swing (Camden Town), Stranger Than Paradise Records (Mare Street Market, Hackney), Atlantis Records (Lower Clapton). And of course don't forget West London's; 'Honest Jon's' (Ladbroke Grove) which is still standing since 1974 championing underground sounds from Congolese Rumba, Southern Soul, Gospel, Funk, Reggae. Amidst its eclectic mix that has forged loyal custom over the decades along with visits from the likes of Courtney Pine, to Neneh Cherry echoing why this store is a national treasure in the west part of town proving that Vinyl is still very much alive and kicking in London town, as are music lovers and crate diggers. So let's keep digging and preserving the culture of collecting sound art with all our hearts.